Facilitate Teaching Flow with Friendly Design
EZWrite 4.0, pre-installed exclusively on BenQ's IFPs, is the ultimate annotation app designed to facilitate interactive learning with a tap. It offers multiple features, including MS Office compatibility, handwriting recognition, video recording and collaboration tools. 
Wireless Solution for Seamless Collaboration​
InstaQShare is the software designed for seamless wireless presentation and collaboration during lectures. It allows the smooth streaming of visual, audio files and Full HD quality videos. Users can also mirror content from mobile devices, and invite up to 16 participants for seamless collaboration.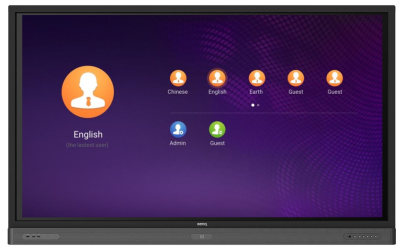 Account Management System (AMS)
BenQ's IFPs support multi-account management through NFC technology, which allows users to directly access their personal system-setting and folders by simply scanning ID cards with the built-in sensor, as well as easily lock screens when not in use. AMS also offers instant access to major cloud storage services without having to enter password. 
Integrated Front-Facing Speaker and Pen Tray
BenQ IFP integrates the repositioned audio speakers with the screen-length pen tray. The two front-facing,16W speakers create better sound transmission and bring more audiovisual enjoyment to interactive learning. The pen tray offers a handy place to keep IFP stylus and other tools that help enrich and smoothen presentations, providing fast access and avoiding needless interruption.